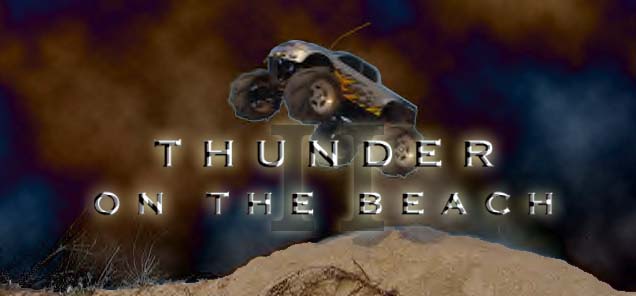 ---

Galleries

Days Before Thunder | Trucks of Thunder | Racing Gallery | Pit Gallery | Faces of Thunder | After the Thunder


---
For those of you who went or who feel like sharing sign our guestbook!

For those of you who went and forgot to fill out your Feedback Form!


---


What is Thunder? | Days Before Thunder | Friday | Saturday | Sunday | Special Thanks

What is Thunder on the Beach?

Well where can I begin? For those of you who do not know, Thunder on the Beach is a bi-annual monster truck show put on by the New Jersey Hot Rod Association. Last September, four weeks before the show, I was invited by Dave Sutton (owner of NJHRA), to come down to Wildwood and put on a small expo. We had four weeks, so it didnt give us much planning time or much time to get the word out. I had turned to the MaxxTraxx message board and put the word out there, not expecting much response. Lo and behold, we had a turn out of around 20 to 30 racers with guests from as far away as Georgia and even Michigan! All in all it tuned out to be a great weekend and we all got to go home with smiles on our faces and many new friends. The show went off without a hitch and we were invited back before the second day of our three day weekend had even started.
XXXXXA few month later, Dave had contacted me about his show in May of 2001. He invited me down to meet with him in early spring. We sat and talked about expanding our show with prizes, races, much needed utilities and advertising to pull more of a crowd. He wanted us to become more a part of the show. I had decided I wanted to have a show and race like I had always wanted to find, in the hopes that others would enjoy it as well. I had envisioned a laid back, fun race, without all the regulations, that could be enjoyed by beginners and R/C experts alike. I also wanted to have something for the winning racers, whom we expected from across the country, to take home with them to say, "I was there. Look what I won!". So I sent out the word I was looking for some help with the show and also some sponsors. To my surprise I was contacted by many people offering to help with the show. During the following weeks I corresponded with many different companies offering parts or money to sponsor trophies. I now had a staff, 29 trophies and many prizes to give out. After a meeting, several late night conversations, and many hours of brainstorming we came up with a fun filled, action packed weekend for all to enjoy!
Back to Top

Days before Thunder....
Well, seeing as how a flat beach would make for some pretty boring races, I had to start making some trips to Wildwood early that week. For three days in a row I made a two hour round trip so that I could work by myself--building up the sand, putting up fencing and setting up a display area. On the third day I was joined by a new friend, Lucas, who offered as much of his time as he could. A about six o'clock Thursday night we completed our three tracks, set up the tents and tables and were ready to go. By that point we were joined by a few racers who had arrived early: Don Modro from Pittsburgh, Pennsylvania; Mike "So Money" from Laguna Beach, California; and Jason and Colleen from New Jersey. *Special thanks to them for all their help setting up.* We then decided the night was still young, broke out our trucks and had some fun. Lucas had pulled out a vehicle unlike any I had ever seen before. This monster was a seven axle clod (six of which were driving and steering axles), fifty-six working lights, diesel sounds and measured in at six feet long and a whopping sixty pounds! *see pics in gallery*
XXXXXMike was convinced he could jump the peak of the ten foot tall tent with his brushless E-Maxx. Unfortunately, after many failed attempts, all he had to show for it was a sandy E-Maxx. On the other hand, it made for some pretty amusing pics. *again see pics in gallery* After much anticipation Don Modro unveiled his Nitro Powered R/C Radio Flyer. It was unlike any wagon I ever had! He gassed it up, pulled out the strapped in Furby and replaced it with a South Park Timmy doll, and started it up. The acceleration and speed on this was unlike any onroad cars I had ever seen. I was almost positive he would be taking home a trophy that weekend--well, that is if there were a Radio Flyer class. *see pics in gallery*

Days of Thunder...
Back to Top

XXXXXFRIDAY....Well, what can I say? This year was larger than I could have imagined. I know we had planned big and wanted big, but I don't know if I really expected big. As I have mentioned before, we put a great deal more planning into this, organized the events much better and really promoted to our hearts content. I received many registrations beforehand and had a high head count--not even accounting for "day of" registrations--but the numbers still hadn't sunken in.
XXXXXI, along with my girlfriend, Kryss, arrived in Wildwood around three in the afternoon. By that time all the tables I had gotten for the show were scattered with T-Maxxes, E-Maxxes, and many other assorted trucks.I jumped out of the truck to see many faces--new, yet still seeming familiar: friends from around the country whose faces I'd never seen, but knew all too well.
XXXXXAfter a brief setup I began to walk around and put names to faces. That's when I was introduced to Bill Hermann of Ace Designz. I had been corresponding with him for a few days before the show about some equipment I needed. Though I had hoped for a lot, I knew better than to expect it--but without them, their equipment and the constant help they offered, the show would not have been nearly as good or as smoothly run as it was. I want to thank them here for everything they did for me and all of you.
XXXXXAs we moved on into the evening more and more racers, guests and spectators showed up. Sounds of more and more nitro engines running the course and whizzing of electrics running the Dragway filled the air as the sweet smell of burnt nitro flowed through the air. Once we were settled in and things were set up we began some drag racing, which was open to any vehicle: electric, nitro, kit form or homegrown. Some of the most impressive RC's I have ever seen were placed down to take the spot as fastest on the strip. Some of the most noteable would have to be Nitrous Pete's .21 T-Maxx, topped off with a green Excursion body and sporting sand paddles. All you would have to do is look for the quartet of four-foot-high rooster tails. If that wasn't impressive enough Pete also had another headturner. What it looked like was a Nitro 4-tec with 2.2 inch rims and tires on it. He then removed the 4-Tec body to reveal an Ofna Pirate Ten with .21 engine and two-speed trans. He started it up to a low throaty sound of the .21 engine. He ran it around for a few warm ups before he cranked on that throttle and sent that beast down the track. All heads turned as he barely held control over it. When it hit second gear, it pulled itself right off the ground. There was not a pair of eyes not glued to this truck! Don Modro also had a head turner hidden away. He had the now famous Turbo Furbo Wagon (nitro powered R/C Radio Flyer) You would think this home grown machine would just kind of putz around the track. He hit the strip with it and he blew all doubts away. With a set of Pro-Line sand paddles wrapped on the 2.2's he posed a threat on most if not all the competition. It was a good thing he added the 5 inch wheelie bar before he left or he would have flipped right over each time he grabbed the throttle. Unfortunately that night we lost a dear friend. The driver of the Radio Flyer (Furbo) was thrown from his seat abourd the wagon, due to a faulty safety harness. He was pronounced dead that night, allegedly from severe damage after being run over 15 or 16 consecutive times. RIP Furbo. I would say one more event worth seeing that night would have been the "fridge pull." Lucas pulled out the fourteen-wheeled Clod, disconnected the trailer, and strapped on the pulling sled. He proceeded to seek out something impressively heavy to tow. After Don Modro refused to step on the sled, Lucas ended up going with Ace's refrigerator (yup they even brought a refrigerator). This clod pulled this fridge like it was an empty cardboard box, only stopping when the sled dug into the sand.
XXXXXFriday's night of testing tuning and fun slowly wound down around 10 o'clock. We had a full day ahead of us with plenty of racing. We all packed it up and headed to the rooms. Well, some of us anyway. Lets leave it at that. You guys know who you are.
Back to Top

XXXXXSATURDAY....Saturday morning couldnt have come any quicker. Again by the time I rolled out there the tables were full and many new faces were among us. We had at least tripled in number from the night before and there were still many to come. After initial setup, registration was called. We counted in at 92 racers and guests not including Lucas, Jason, Colleen, Kryss or I. Then sign up for classes was called. It took over an hour for all to sign up for their classes. There was however plenty to do in the meantime. The tables were lined with custom trucks to take a look at; there was time to talk with many racers from around the country to share tips or trade some stories. There was an onsite hobby shop stocked with aluminum parts for your favorite toy or if you didnt have one already they had kits for sale. Scot and his wife from Rockhoundz flew in from Utah to sell parts, shirts and hats. Many bought parts or trucks to trade or sell. The sign up sheets filled quickly. Around one o'clock we started the electric drags which only consisted of about 5 trucks. The class was dominated by E-Maxx's, yet in the end the trophy was taken home by a sand paddle wearing electric Traxxas Stampede. We then moved into nitro drags. We had around twenty or thirty entries for this class. Truck after truck was brought out to attempt to take the title of "Fastest Truck on the Beach." Truck after truck they fell until only two trucks were left. The competition was fierce and it seemed like everyone tried anything to win. Just a tad bit leaner, was the look on most of the faces working to get their trucks faster. At one point we had two trucks fly off the track into the crowd at top speed. In the end as I said there were only two. A .21 T-Maxx and a Team Losi XXXNT of which only one will make it the winners circle. After 2 hours of racing the green Excursion topped .21 T-Maxx took home to the trophy for nitro drags.
XXXXXWe then took some time to refuel ourselves and get some relaxing in before the course racing. An hour later we were ready to break into the courses. Due to lack of a transponder, we ran laps. Because it was a long course with tight turns, plenty of obstacles, and not so graceful landings off the jumps the ten laps took a good 10 to 15 minutes to run. The track was setup and built for driving skill, not speed. There were many hairpin turns, doubles, triples, and a tabletop (literally...) that went up and over part of the track. If you tried to WOT through this track you would not be going home with a trophy. The trucks were split up into six classes for the course. Each would run ten laps and the first three across the line would take home a trophy. First we would have the E-Maxxes take the course. The two entrants still competed as if there were six others out there. We moved quickly into to the one-eighth scale trucks. This track being designed with the one-tenth scales in mind made for interesting race of push and shove as their trucks spanned most of the width of the track. A low pitched purr had taken place of the whine of the smaller scale engines. At the end of this round the trophy was taken by our special guests from RC Monster Truck Magazine, Jeff Schultz with his nitro MP. Of course for the trucks that didnt have a specific class in which to compete or for those who just wanted to run for the heck of it we had a "Redneck" class, aka "Run what ya' brung." Where else would you have seen a Clod Buster run against an Ofna Monster Pirate along with a E-Maxx. Of course I would never turn anyone away from racing and we had even a young kid who was down for the day with his Tyco monster truck. He started the race but soon became discouraged and decided to leave. I had asked if he wanted to come back and race but he told me he'd be back next year, "with one of those," pointing to an E-Maxx. Hope to see you next year Josh! Soon the HPI Nitro MT's took to the course. Now let me say I have been to numerous races over the past year or two, but none have compared to this one. Now you may think "Wow, must have been real fast and competitive!" It was quite the opposite. By this time the trucks had been through quite a beating and were not doing all so well. They started out hot but not even two or three laps into this all but one died out. One would think this survivor would just nail it and finish it or just stop and take the win. Well, he thought otherwise. Another lap around and his truck MIGHT have been hitting five miles per hour. He still had the look of determination on his face though. He finished all ten laps--even though it took him about twenty minutes. I do have to say though, hats off to Shawn. That kind of attitude will allow you to go far in life. He received along with the first place trophy an applause from the crowd. It was now time to get to the most prominant truck of the weekend, the T-Maxxes. First up were the .21 sized engines. Again the low pitched purr took the place of the high pitched whine of the .15 sized engines. This had to be one of the most competitive races of the day. At the end we saw another pitiful win for second place. On the last turn of his last lap he stalled out and he did not let that stop him. He held his remote at full throttle and pushed his truck the last thirty feet across the finish line.
Due to an enormous turnout for the T-Maxx's with .12 and .15 sized engines we split them up into two ten lap qualifiers and one 15 lap main. It seemed this is what everyone had been waiting for. The pits were empty. Everyone was either a racer, a turn marshall, or simply planted in a seat right next to the track. The crowd even seemed to know this was one of better races to watch. The fence was lined with people at least two to three deep. Everyone gave it their all. This was the last chance at a trophy besides the jump contest. The first qualifier had five T-Maxxes; the second four. We broke for 15 minutes for the five qualifiers to retune and fuel up and to let the anticipation build a little. The 5 took the line and then they gave it all they could. Dane Loch's truck caught my eye: he seemed to be slower at times than the others but I noticed that he was keeping himself at a pace and had the least amount of trouble staying on the track and in the corners. I then realized he may be slower but he was winning. He realized just how I built this track: not for all out speed, but for driving. Way to go Dane on taking home the first place trophy. Now unfortunately due to lack of time we had two events left and only time for one. So I put it to a vote for everyone between the jump contest or the freestyle competition. It was pretty much a hands down win for jump contest. To make it more interesting, I gave away two sets of prizes for this; one for a four-wheel landing and one for a crash landing. Each person had three chances to show their distance. In the end we had a tie for jump contest, and after regrooming the jump and landing area we had a T-Maxx and an Ofna Monster Pirate competing for the trophy. In the end, the win went to the Ofna Monster Pirate--Jeff's third first place trophy home for the weekend. He later commented that he never believed that he'd be competing against a T-Maxx for the win.
XXXXXWell that pretty much concluded the racing for the day. All in all it was a day of many close races, incredible showmanship, and some overall tough competition. We (and when I say we, I mean Kryss) cleaned up shortly after the close of the last event and then gathered around the main tent for trophies and prizes for the day. Everyone gave a round of applause for each racer who took home something and for those who didn't, there was no amount of bitterness showed. I can't tell you how many times I've been to races where if someone didnt win they try to blame it on others or certain regulations or the people running that race. I tried to put on a race where we wouldnt have to see that, and I believe I succeeded in doing so. A lot of people were saying their goodbyes that night. I started to think there would not be many people around the next day but I guess I would see when the time comes.

*For all Saturday race results click here!*
Back to Top

XXXXXSUNDAY....I hit the beach around twelve o'clock to find a good twenty people still around running trucks. We leave this day aside just to have some fun and run the course and do some overall "bashing". We had welcomed a few new guests. Two guys came out with their impressive one eighth scale buggies. The speed coming from these things were incredible. I myself finally got a chance to "think" about running. I went for my T-Maxx, which hadnt been run since my visit to Georgia in January. I could not get it to start up so I went for my "trustworthy" clodbuster. Put my SMC packs in it and got about fifty feet and the esc blew on me. At this point I gave up and just faced the reality that I was not going to run, so I decided to get some shots of the guys who could. Seems the large jumps on the course were getting some real use out of them. They could get their full runs at them and really build up speed, because they didnt have to stay off the other tracks. As I was taking some pics of the airborne trucks I noticed Bill of Ace Designz pulling his Ford Explorer into the area, which they planned on jumping with their trucks. (Notice I said planned!) So after some failed attempts with some pretty exhausted trucks they asked the guys with the one eighth scales if they would like to go for it, and they quickly took Bill up on the offer. I would not have beleived it if I hadnt seen it. These buggies were clearing the Explorer plus 10 or 12 feet. After a few runs they even pulled in another car behind the Explorer and they still cleared it. After a few close calls to Shawn's Taurus, they called it quits. Right towards the end of our day one guy came out with his rear dually T-Maxx. He had sandwiched two tires in the rear and also had an aluminum gas tank mounted under his chassis. They were two ideas I had yet to see among the hundreds of RC trucks I have encountered. After a few more hours of running and a long cleanup we said our goodbyes, exchanged some numbers between our new friends and then set off on our own ways.
XXXXXAs I have mentioned through out this page, this weekend was an overall success. It was full of fast trucks, good racing, fun times, new friends and we all got to take home a little something--and not just the sand in our cars! It seemed that most would be returning to the show next May, if not this September. It was a great show and race and I hope to have many more in the upcoming years.
Back to Top

XXXXXSPECIAL THANKS TO....Kryss (my girlfriend who if not for her none of this would be possible as she is the one who started me on the web)
-My family (especially Tara, my sister who spent many late nights preparing paperwork and the cutting the pit passes from the laminant for me)
-Lucas Slabonik (thank you for all the help bud)
-James and MaxxTraxx
-My sponsors--Matt Bolik at Parma; Scott Hughs from Pro-Line;Scot and his wife from Rockhoundz who did fly in for the show;Jason from RixGear; Bill at RC Alloys; Larry from Panther Tires; Clayton and Ballistic Stupidity; Pat at Ballistic Batteries; James and MaxxTraxx
-A big THANK YOU to Dave Sutton and the New Jersey Hot Rod Association for inviting us back again this year to their show and I hope to be with them for many more shows (they did so much for us even among many problems they had to deal with for their own show beforehand)
-A special thanks to Chris with the NJHRA for all the help with setup for during the week before
-John, John Jr, and Nelson at the Hobby Workshop in Mt Ephraim, NJ for the on site
-Bill Hermann, Shawn Laity and Ace Designz Racing for everything you did and brought (I dont know what I would have done with out you)
-I would also like to thank Charlie Stevens and his staff from RC Monster Trucking magazine (they will be covering the show in their first issue set to come out late this summer (goodluck guys)
-All the racers for any help they offered through out the weekend with setup, breakdown, turn marshalling and any help you offered (this show was for you and it is only a success because you made it a success).

XXXXXHOPE TO SEE YOU ALL IN THE FALL FOR THUNDER III!!!
Back to Top


---

Sign the Thunder Guestbook.
View the Thunder Guestbook.
Back to Past Events